TLDR;
With the current covid situation, working from home has become the new norm. Having a proper supportive chair, will improve your quality of life, and prevent back pain issues (Health and Saftey at work/home). Secretlabs market themselves within the gaming chair world. Professional IT chairs cost £1000's (GBP) whereas Secret labs cost less than half, depending on your size (£400-499)!! Unless theres a specifc special version. Having to sit and work in a chair for 8+ hours a day, you want something fully adjustable, fully supportive, isn't overly expensive, and has a proven and good quality customer service.
Let me introduce the office chair disruptor… SecretLab
Please read on!
Why SecretLab? Last 3+ months
So with the Covid-19 still playing out many of us still in employment are working from home. Having recently cancelled the rent on the office and desk, and forced to work full-time at home; we've shifted around the home, from the dinning room table, kitchen worktop, sofa, the bed and the bedside table. Sounds crazy, but due to lighting and family issues I personally navigate around the rooms of the house to make the best situation of the environments. However, my lower back has paied the price…
I now have/had lower back, struggle to get to sleep, wake up in pain, generally uncomfortable all the time, feel awful.
So my friend has a Secretlabs gaming chair, and recommends I set up a permanent working environment with this specific gaming chair.
So being responsible, I research the market, look at competitors, pricing models, reviews, reviews of customer service ( Seriously this last one is important!)
Ordering and Why Secretlab
It's reasonably priced, good quality, reviews are outstanding, and they have a very good customer service.
So I do a bit more research, and finally due to my personal requirements settle on the Titan Softweave Black, only problem is… its covid era, and one long waiting list. After my order I get confirmation that delivery is expected in November 2020!
The website is super easy to use: They have i nice online wizard where I put in my height and weight, and it recommends either the Titan or Titan XL. For my personal requirmenets I'm about in the middle of the Titan range and in the bottom third of the XL. PU leather does not last in my house due to kids, pets, and the dinning room! My dinnning room is south facing, and the sun seems to get magnified by the windows, it's a lovely warm room all year round and my current dinning room chairs of PU leather (not Secretlabs PU leather) is starting to crumble. So I'm going for Softweave black choice at £429 GBP.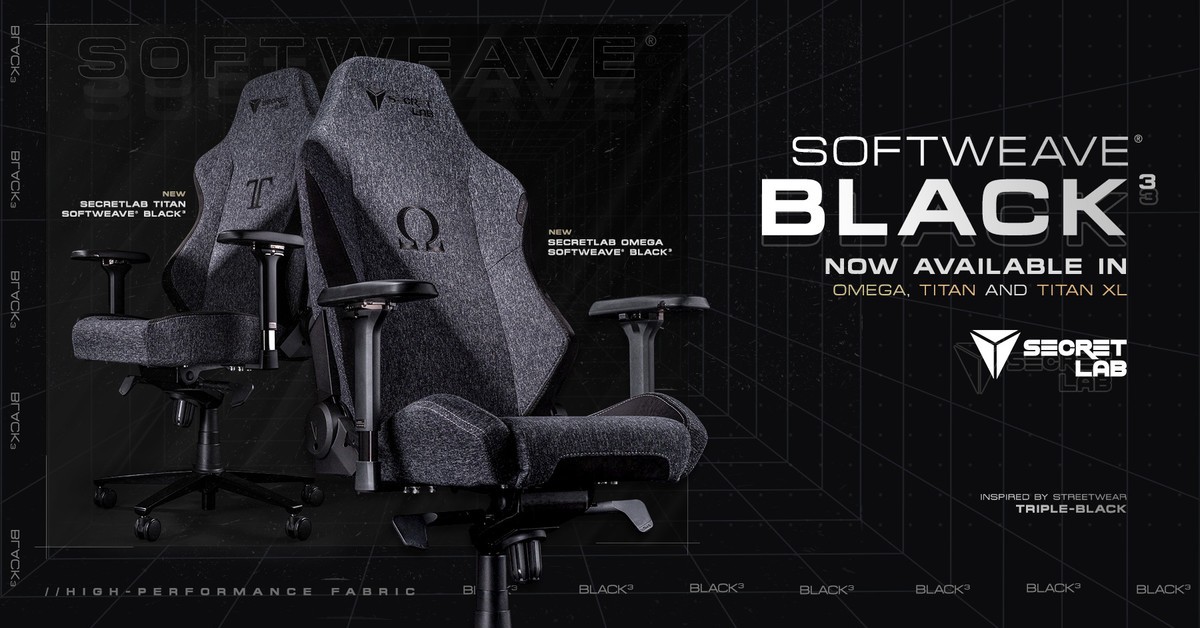 Delivery & Build
WOW! Absolute surprise, a pleasant surprise, I receive an email from SecretLabs and their delivery agent that the chair is comming a whole month early. X-mas has come early, or I'm incredibly lucky! I could see the chair arrive 3 days later in my local port. A further two days fully tracked delivery to my home. Outstanding!
The delivery driver drops off the box, no damage - pristine condition. I immediatley start to unbox. I probably should have taken more pictures, but there are plenty of build videos on youtube.
The chair took me less than 30 minutes to assemble - I was motivated for an online meeting! The instructions where huge!, but clear and consise and assembly was no problem. I've heard people of a smaller build or children require help, but this was dead easy. I was surprised by the quality of the toolkit! Secretlabs have made the effort for some hardcore tools that you literally only use for 5-10mins of the build, but its such good quality it sits proudly in my tool cabinet. I must commend Secretlabs for their attention to detail on every aspect of the chair and self assembley.
Really, its so easy, the quality of the chair and the stitching is amazing, and the quality of the supplied tools WOW! I usually get really p???d off with s??t tools from flatpacks and usually end up using my own tools, not in this case.
One Week Review
I waited one week to produce this blog inorder to give an honest one-week review.
I'll start with the bad points.
Chair was drifting/rotating clockwise it was annoying!
I'm starting to think for my height (over 180cm) I may have been better off with the XL? Though, I am smack in the middle of the Titan recommended stats
In fairness, this was probably down to me rushing, and the fast build. In the end I got a torque wrench and adjusted the underside bolts and torqued them evenly. Its hard to adjust manually, turned out two bolts were slightly looser and two possibly over-tightened, now that they are torqued evenly - no more drift, problem solved!
I cant't expect for the reasonable price, Secretlabs would include a decent torque wrench! The quality of the toolkit was already beyond expectation.
Now for the good points:
Lumbar support - This makes such a positive difference, though I admit I have it on full!
Leg length - perfect
Arm length + width - even though this is fully adustible, the defaults are perfect for me.
Adjustability - perfect.
Material - Ace, I've seen earlier comments of little niggles - I have none!
Back Pain Gone! - In only a week! Amazing!!!! The difference to my life this chair has made!
So now I'll cover a bit more detail…
Height I stated in the bad-points that maybe I should have gone for the XL? I find for my height, and to make the most of the lumber, I need to wiggle my bum into the base backplate of the chair. By doing this I get immediate support on my spine, and im comfortable throughtout the day. Lumbar feels a bit low, but I'm good! If I need a second chair, I'll probably get the XL and write another fair comparision review. I'm topping out on the neck support, and the memory pillow is very soft, yet firm and incredibly comfortable.
I'm a digital nomad Also, I still wiggle downstairs throught the day, I move the chair around the house to make the most out of lighting requirements or escape the close proximity of the working family (kids no longer a problem their, back at school :) ). The chair easily glides on its wheels from room to room, I just dont fancy carrying it upstairs. I've also wheeled it up to the gaming consoles, and used it for its popular purpose - gaming!
Fully Adjustable The quality build is impressive, depending where I work or play in the house, im constantly adjusting the chair! The height up and down, the tilt and adjustable resistance, the arm rests move in all directions: up-down-rotating-in-rotating-out - its so effortless and smooth. I'm only used to this on high end chairs that usually cost approximately £1000GBP+, for something that cost £429+ I'm well impressed, and starting to think the high end competitors are really charging more than they should. The chair can even fully horizontally recline - though I admit I havnt tried the nap/sleep test!
Firmness I've seen complaints/comments online where people complianed about the firmness of the chair and it effecting the circulation of their legs. Now! I'm not build the same way as these people, but hey, this chair is fully adjustable! The firmness is good, and after one week I'm impressed - after all its cured my lower back pain, from incorrectly sitting on small wooden desk chairs, dining room chairs and the sofa!
Quality I'm constantly adjusting it, bouncing on it. My kids hijack it, as soon as i get up! The family pet hogs it as soon as im up and my back is turned! I know its only a week, but its already had a family beating and survived! No loose threads, no tears. I admit I havnt tested staining! So maybe I need to write a 6-month and 1-year review!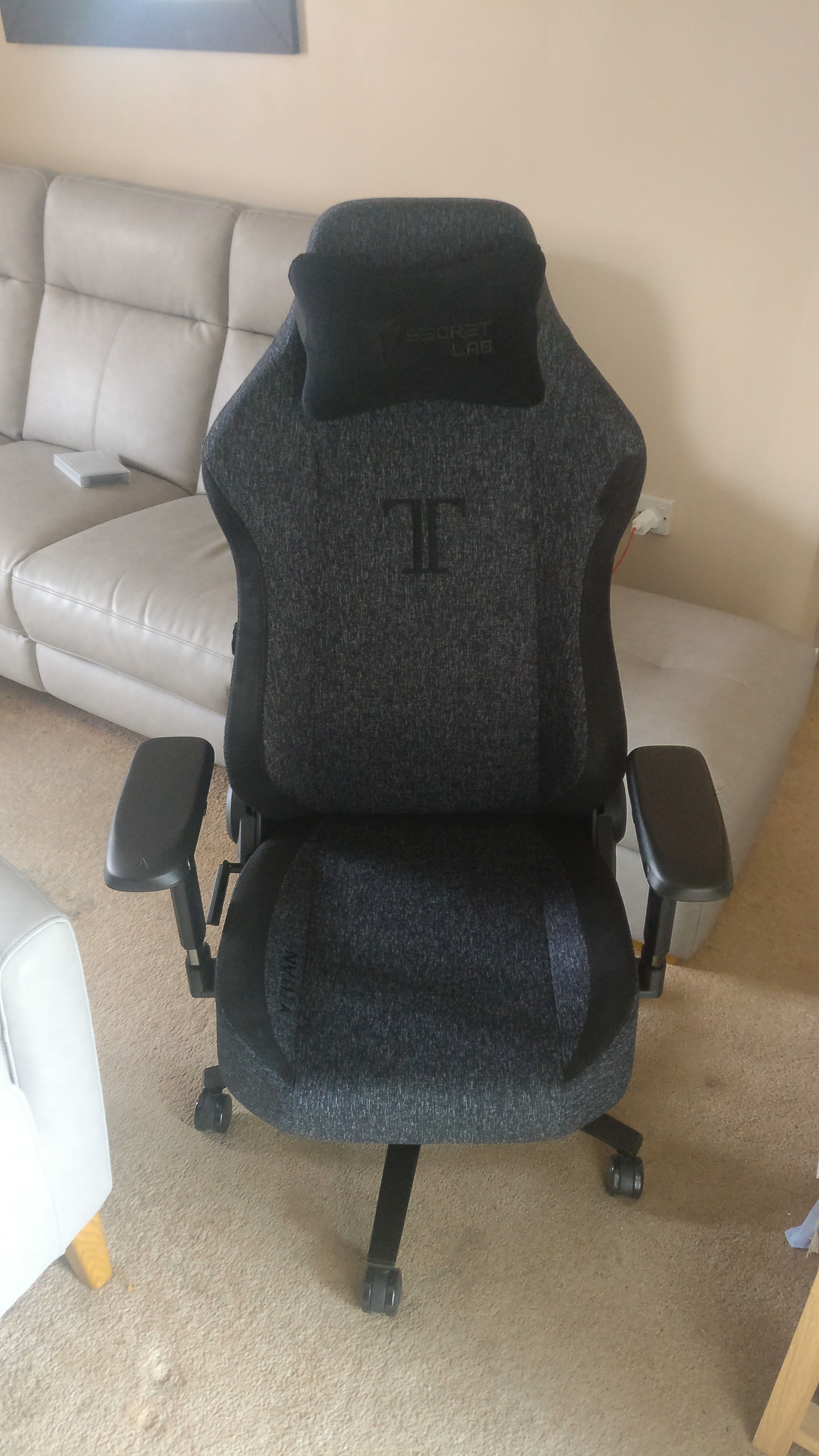 Disclaimer
Some images were sourced from https://secretlab.co.uk/
---
Share on: