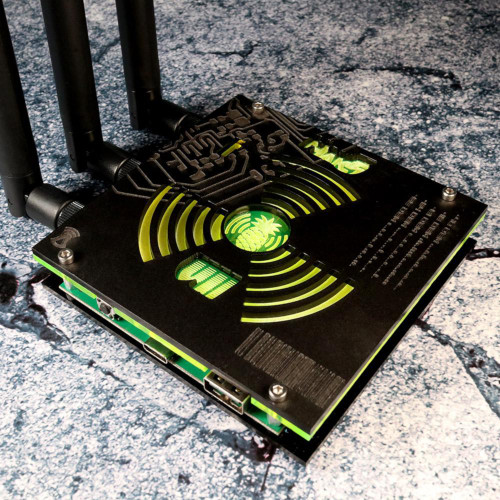 Pineapple Mark VII (MK7)
Lets take a look under the hood: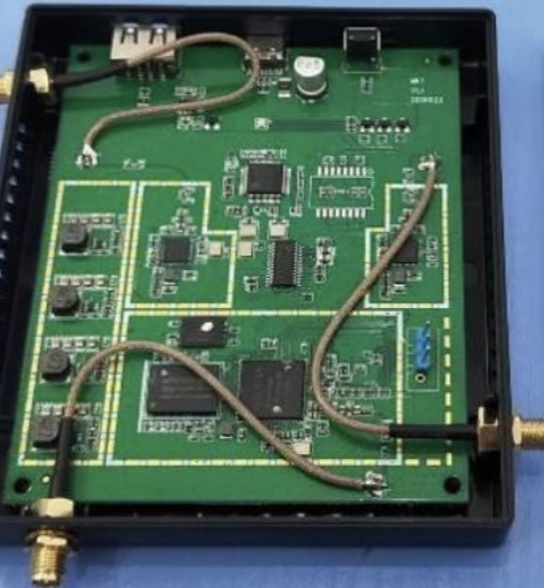 Hardware
3x Radios - 802.11b/g/n
Mediatek processor - 580MHz MIPS 64 KB I-Cache and 32 KB D-Cache
256 MB RAM
USB 2.0
U-Boot bootloader
2 GB EMMC
Specifications
Dimensions: 107 x 93 x 21 mm
Frequency range: 2.412 ~ 2.4835 GHz
Power: 10W (USB 5V 2A
Pricing
Wifi Pineapple Mk VII (basic) $99.99 USD
Wifi Pineapple Mk VII (tactical) $119.99 USD
LIMITED EDITION Kismet Case mod $49.99 USD (no pineapple h/w included)
Kismet LED $15.99 USD
The much needed Mk VII 80211.AC module, an extra $39.99 USD
Enterprise $349.99 USD
Manual
Heres a screenshot of the manual from the box: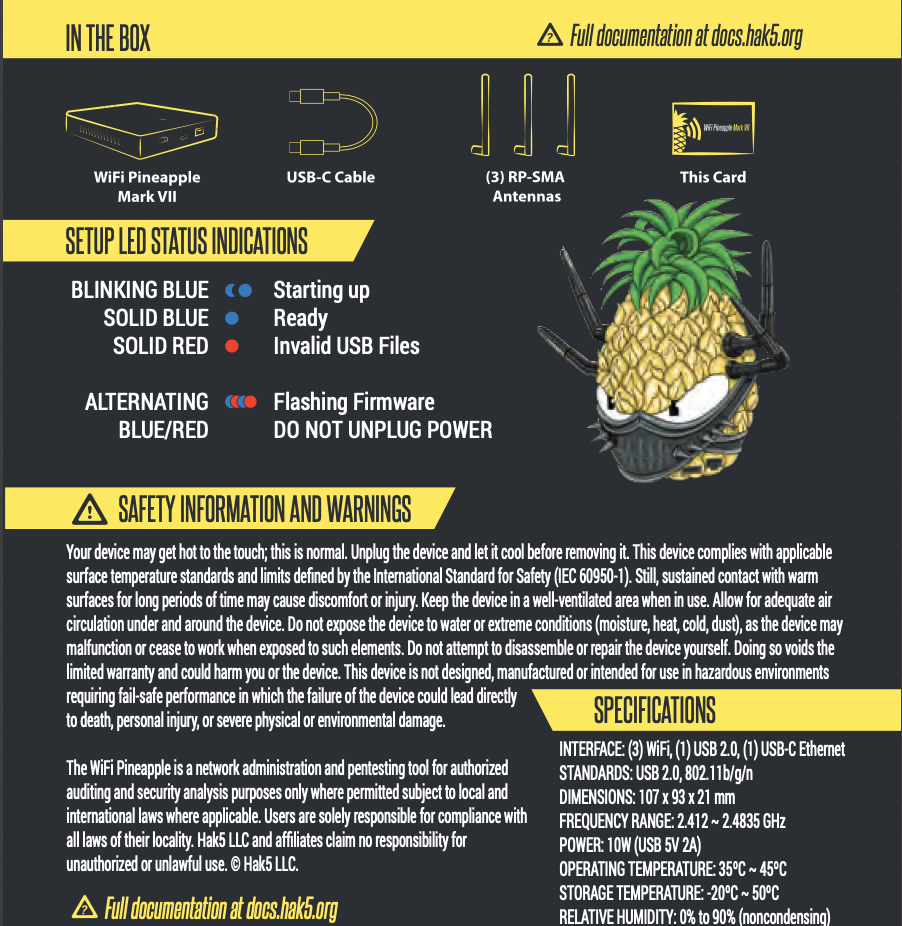 Update (2020-09-08)
We recommend that you may choose to save your money, as after the event Hak5 will release a pro version with the following uncomfirmed stats:
Dual Band 2.4/5 GHz 802.11 a/b/g/n/ac
Quad Core ARM Network SoC
512MB RAM
Four Dedicated Role-based MIMO Radios
4 GB EMMC
If you want to compare the unreleased pro/enterprise against the standard version, Hak5 used to have this comparision image hosted on their web store. But it has since been removed?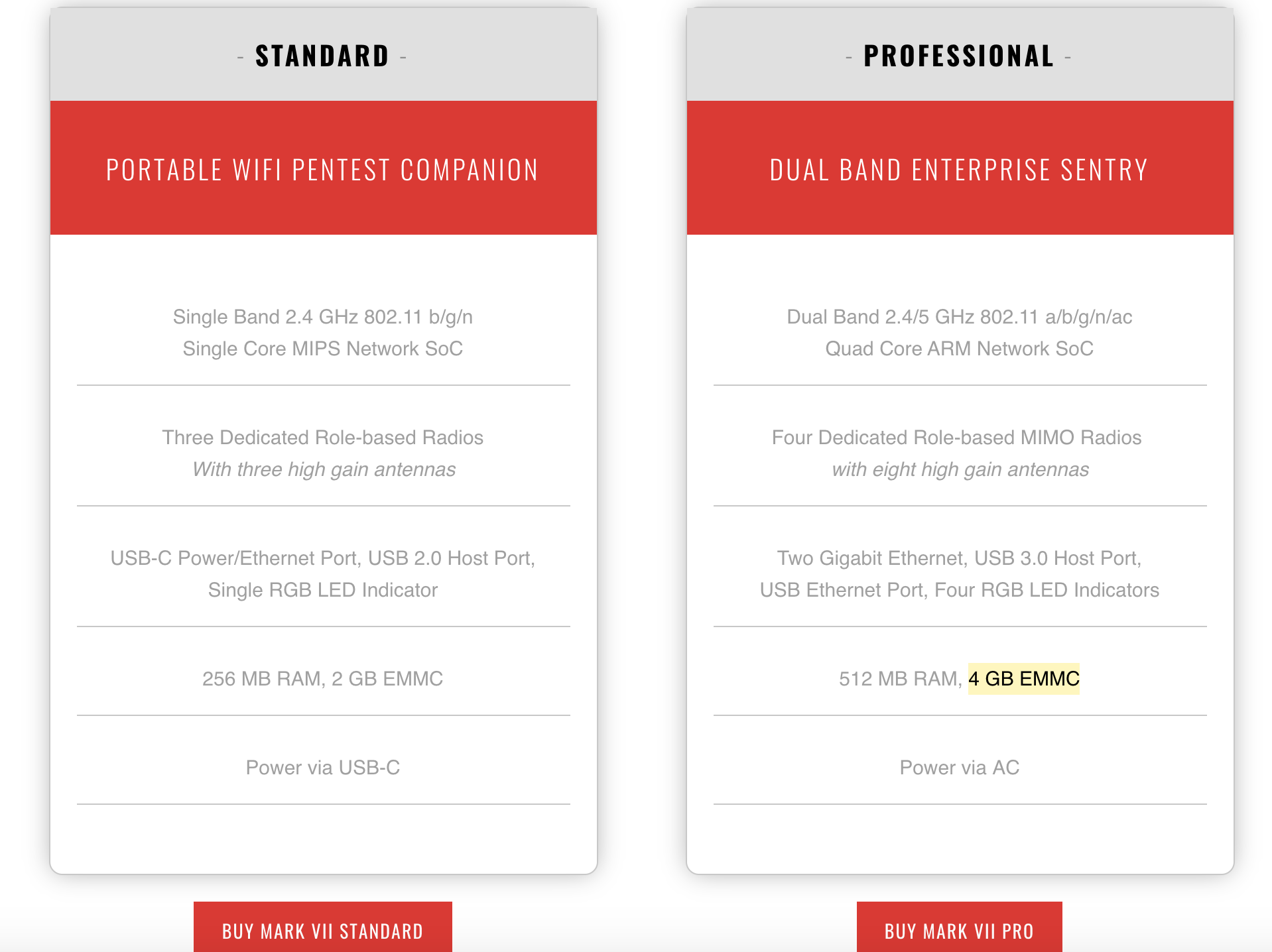 In our opinion think this update is more of what we expect, but will the hardware & software deliver customer satisfaction?
Conclusion
For this iteration we were really hoping for dual radios that could cope with both 2.4 & 5 GHz. Instead we find ourselves limited by default to the 802.11n range. Those willing to spend an extra $40 USD, can get the AC module; However, we are unsure about the operational performance or compliance of the add-on at this time as it is not currently available to test.
This will hopefully be a good upgrade for those that skipped recent models (V, VI nano & tetra), but looking at the forums, these models look almost unsupported and are suffering with several usability issues. We guess the more clever hacker(s) could port the drivers of an existing and supported 5GHz dongle to the latest Pineapple OpenWRT OS making the system more complete to modern standards.
Our opinion is: that at the end of the day, it's your wallet and money, so if you can afford to update your WiFi pentesting kit, then it is upto you.
If you do want to buy one, please visit:
In comparision if you have a restricted budget: you could buy a USB dongle from your local supplier / internet store for around 10% of the above prices and learn to use the freely available Kali Linux (or any other Linux distribution).
Disclaimer
Images and specifications were sourced using OSINT from Kismet, Hak5 and FCCID.
---
Share on: